Choosing house paint colours for a small home is not an easy task. This is because little spaces have the ability to carry a lot of weight. Hallways and foyers can determine the look and feel of a home. Before you go out to buy paint for your small home, take the time to establish the effect you want to achieve. Hexa6 has provided some ideas to help you in choosing house paint colours.
1. Living room with natural light and colours is essential 
Sources: Houzz
The living room is the first room visitor see when they walk into a home. Paint your living room walls white to increase its brightness and to make the walls visually move away. If you feel that white will be too stark and cold, try taupe.
It can be a calming sand colour that enlarges a space and makes it feel warm and welcoming. It can also be a great backdrop as it takes on the colour of natural light while keeping its integrity, so you can also try cream, ivory, or beige.
2.Create a Sanctuary With Bedroom Color Ideas
Sources: Decoist
Use white and other relaxing colours to make your bedroom appear bigger. Blue's suggestions of the sea and sky make it innately relaxing, and the research shows that people sleep for longer periods in blue bedrooms. If you don't fancy blue, try icy grey-green that's a great take on neutrals.
Some homeowners with small bedrooms like to use earth tones and neutrals like gray, yellow, or green. These hues make walls to visually recede into the background, highlighting the accessories in a room. White also works well in a small bedroom, but avoid using stark white since it can make a bedroom look bland. Ivory, cream, and butter are good options. You should paint the ceiling white as it's the best choice for a small room.
3. Consider Neutral or Accent Wall Kitchen Paint Ideas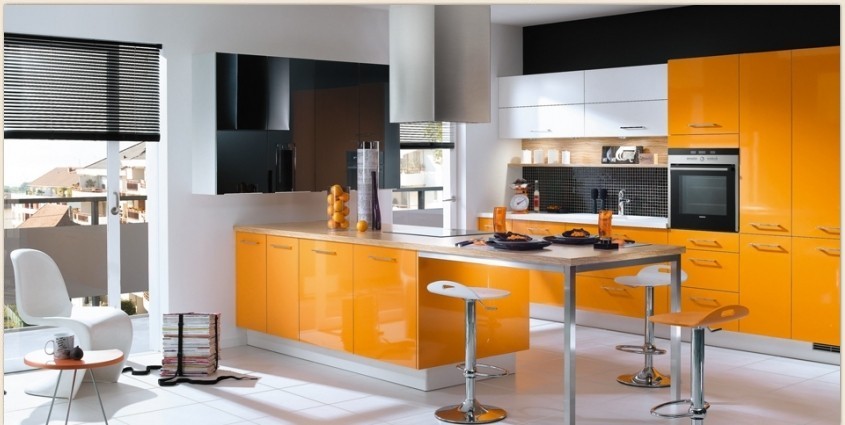 Sources: Digsdigs
Are you looking to add more pizazz to your kitchen? Do you know why most kitchens are painted red or orange? It's because these colours stimulate the appetite. If you think they might be too bright for your kitchen, paint your walls a soft pumpkin or kumquat. These colours are vibrant but not intense.
If you want something gentler, try white, pale blue, or cream. Also, consider a neutral palette colour tone where wood stains become the colour choice as opposed to a definite colour. Wood stains bring out a natural sense to the kitchen and keep your kitchen feeling warm and welcoming.
4. Create a Tranquil and Relaxing Bathroom with Soft Color
Sources: Anglers_Paradise
Bathrooms look great with soft colours. Soft colours make people feel relaxed and also flatter the skin tone. You will fall in love with bathrooms painted ivory, gentle rose, or buttery tan. If your bathroom doesn't get a lot of natural light, paint the walls pale yellow or straw-like yellow as they mimic sunlight.
If your bathroom is very small, paint it white or lemon to make it appear bigger. You can also create a coastal vibe with sky blue paint. Paint the walls and ceiling a similar colour to visually enlarge the space. So you will travel effortlessly and will think the room is bigger than it is.
5. Paint One Wall Dark 
Sources: The Spurce

Dark colours can actually make a small space seem larger—it just all depends on how you use them. The key is, instead of painting the entire space in a dark colour, to just paint one wall (or a single element like a bookcase), as seen in the image above from Royal Roulotte.
Dark colours read as receding from the viewer, so the accent wall visually enlarges the space (and sets up a nice contrast that can make the rest of the space seem brighter by comparison).
Moreover, when walls are a deep colour and trim is deeper colour, the eye will not stop at the edges or borders but continues around the room. Because the eye doesn't register the borders, space feels like it continues on, so it feels more expansive.
In conclusion, choosing house paint colours for your home sounds simple, but it can be one of the toughest choices to make, especially for a small home. Follow these tips, and you'll be sure to choose the best interior paint.
Finding A Professional Designer To Help With Your Home Interior Design?
There are still a lot of reasons why home interior design is very essential for you and we just cover the tip of the iceberg. If you wish to know more about interior design, you can review our past works or articles on our website. We can let you experience great service at a reasonable price. Hexa6 is an interior design company in Johor Bahru that can help you to design your house to make it look awesome. Hexa6 always believe that great space planning and design will help business to attract more people. We are work closely with builders and business owners from the early planning stages of each project through to completion with attention to detail and time-efficiency with no hidden cost.
Contact us if you are interested in our service and need help with any home interior design ideas. 
For more related article: